FEMALE TEACHER PROBLEMS AT PRIMARY LEVEL IN PAKISTAN ADMINISTERED KASHMIR
Abstract
It is mandated in the Constitution of Pakistan to enhance adult literacy and quality education at primary level through provide free and compulsory education to all children between the ages of 5-16 years. The year 2015 was the deadline for the participants of Dakar declaration (Education for All [EFA] commitment) including Pakistan but they fail to do so. Education related statistics coupled with Pakistan's progress regarding education targets set in Vision 2030 and Pakistan's lagging behind in achieving EFA targets and its Millennium Development Goals(MDGs) for education call for an analysis of the education system of Pakistan and to look into the issues and problems it is facing so that workable solutions could be recommended. This study finds that Pakistan school system in seems as lowest in the globe. Many reasons involve in this state of affairs.i.e the quality of learning and competency level of both students and teachers in Pakistan is among the poorest in the region. One of the reasons is educational qualification is not enough to become a primary school teacher. Another is inadequate training certification program for teachers. Because teacher is key part of learning progression in education sector which faces many problems owing to which they cannot play their roles efficiently in the education process. Same the problems faced by female primary school teachers in Azad Jammu and Kashmir) AJK "Pakistan Administered Kashmir". Methodology of the study followed the procedure of descriptive research, in which existing status of female teachers in AJK was thoroughly analyzed. The problems of female school teachers were identified using the tools such as a questionnaire, and an interview schedule. Conclusion of this study presents that most of teachers affected due to their appointments, transfers, place of posting and individual promotions, rapid rate of bribery, political affiliations and interference relatively high than the merit. In many cases female teachers appointed in far flung areas where transportation is very pitiable. In addition that female teachers are overburdened with extra classes due to lack of teaching staff in primary schools, especially on one side female teachers face huge shortage of teaching and learning resources in schools and on the other hand there are smaller amount proficient development opportunities for all teachers especially for female teachers. These few mentioned factors have very much affected the procedure of schooling and education quality. The study recommends this problem could be resolved by considering some basic measures e.g. system of accountability, schooling environment and education assets, providing ongoing talented advancement opportunities and incentives, making transparent appointments system and on merit promotions procedure, provide enough teaching and non teaching staff to female primary schools and control political interference and involvement.
Keywords: Quality education, Primary level, Female teacher's problems, possible solutions,
REFERENCES
Mehnaz Aziz et al, "Education System Reform in Pakistan: Why, When, and How?" IZA Policy Paper No. 76, January 2014 (Institute for the Study of Labor, 2014), P 4.
Annual Report: Pakistan Education Statistics 2013-14, National Education Management Information System Academy of Educational Planning and Management, Ministry of Education, Trainings & Standards in Higher Education, Government of Pakistan, (Islamabad, AEPAM, 2013)Ghaffar, S. A. 2013. Educational Policies in Pakistan. Allama Iqbal Open University, Islamabad, Pakistan.
Economic Survey of Pakistan 2014, Ministry of Finance, Government of Pakistan
Bozkurt, N., 2004, A Group Of University Students' Depression And Anxiety Levels And Relations Between Them. Education And Science. Vol 29, No 133 (52-59).
Bregman, J. & Muhammad, N. (2011). "Primary and Secondary Education Structural Issues" Islamabad Pakistan.
Farooq, R.A (1993). "Education system of Pakistan: Issues and Problems". Asia society for promotion of Innovation
Bulut Bozkurt N. Correlations of various coping styles and stressful life events in elementary school teachers. J Edu Ekim 2005; 13: 467-78
Government of Pakistan (GoP) (2012). "National Education Policy 2012-2014." Islamabad
Serin, N. B., Serin, O., Yavuz, M. A., & Muhammedzade, B. (2009). The Relationship between the Primary Teachers' Teaching Strategies and Their Strengths in Multiple Intelligences. Procedia Social and Behavioral Sciences, 1, 708–712
Shah, D. (2003). "Decentralization in the Education System of Pakistan: Policies and Strategies". Academy of educational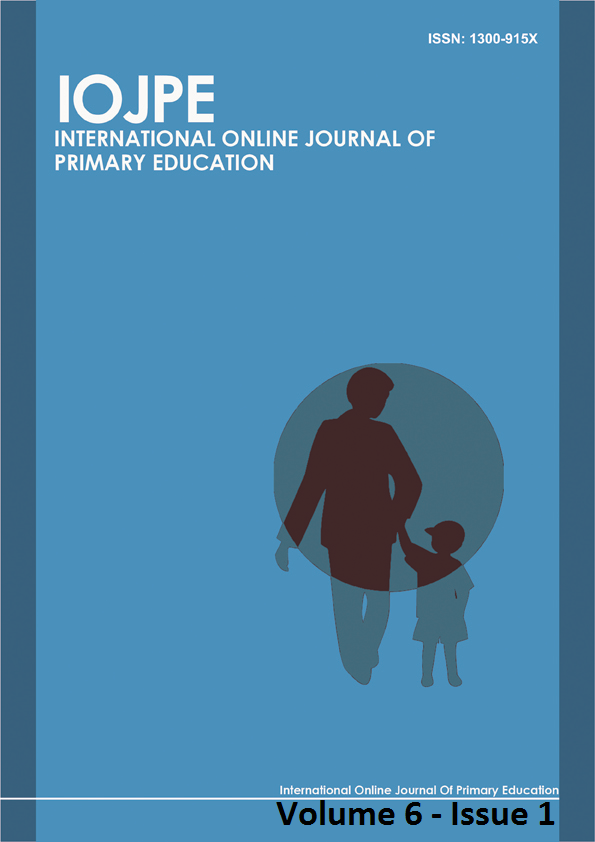 Downloads
License
Copyright (c) 2021 International Online Journal of Primary Education (IOJPE) ISSN: 1300-915X
This work is licensed under a Creative Commons Attribution-NonCommercial 4.0 International License.
Copyright and permissions
The manuscripts submitted to International Online Journal of Primary Education (IOJPE) for publication should be original studies that were not published before or not submitted to anywhere else for publication.
Authors who submit their manuscript to International Online Journal of Primary Education (IOJPE) should acknowledge that they agree to transfer the copyright of their studies to IOJPE. All Open Access articles are distributed under the terms of the Creative Commons Attribution License, which permits unrestricted use, distribution, and reproduction in any medium, provided that the original work is properly cited.

All articles published in International Online Journal of Primary Education (IOJPE) are licensed under a Creative Commons Attribution-NonCommercial 4.0 International License (CC BY 4.0).
Any further distribution or use of content published under CC BY 4.0 must contain the author(s) and the published article's title, and journal citation. All articles published in IOJPE under a CC BY License may be used for Text and Data Mining purposes, subject to the conditions of the CC BY License terms. The license allows for commercial use. IOJPE allows reusers to distribute, remix, adapt, and build upon the material in any medium or format, so long as attribution is given to the creator.
The journal's objective is to disseminate articles published are free. Under the Creative Commons license (CC BY 4.00), the journal allows the user to permits unrestricted use, distribution, and reproduction in any medium, and even use the publication for commercial activities, provided that the original work is properly cited.
Open access is an approach that eases the interdisciplinary communication and encourages cooperation among different disciplines. IOJPE, therefore, contributes to its own field by providing more access to its articles and a more transparent review process.